by Barbara Bechtel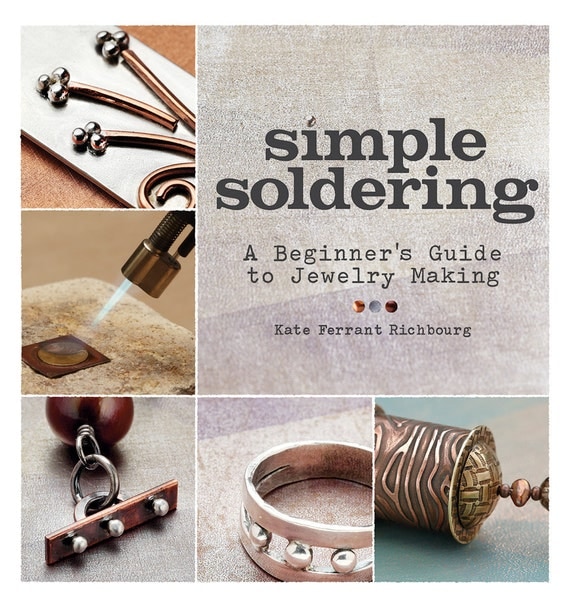 Soldering can be intimidating thing to start on your own and I'm always lukewarm about books that try to address it that are aimed at the craft sector. However, more technical books, often used in college, are usually not geared towards the beginner. Addressing the issue of safety and making a reader feel comfortable enough at home to give it a go can be a daunting task to say the least.
Simple Soldering includes a DVD with several hours of personal instruction on different aspects, all marked with an icon inside book so you can easily reference the DVD when needed.
Based on the idea of making a metal sampler, much like a quilt or embroidery sampler, Kate guides you on all of the exercises fundamental to learning various soldering techniques through the use of 16 individual squares, before moving on to projects. which are also presented as full length tutorials in the book. I love this aspect of the book because it will help eliminate the fear and doubts you may have if you were to only learn the techniques through projects alone.
The DVD is an excellent resource as well. You can tell that Kate is a seasoned instructor and her warm contagious excitement is evident in the videos.
The jewelry projects presented once you finish your sampler are beautiful and elegant and have just enough challenge to them that they will leave you with a sense of accomplishment when you are finished!
Overall, if you're a soldering newbie or need some projects that will help you increase and improve your skill set, I highly recommend this book. It is beautifully printed and presented and with the addition of the DVD, it's like taking a private class in the privacy of your home!
Full D

isclosure: the opinions here are my own

.

I was not asked to re

view this book.