Well...... So far...... 38 different ways!
And how many ways can you say GIVEAWAY.....
So far 13 donations have been made for 1 lucky winner!!!

All sellers and shoppers are eligible to participate in the giveaway.
Check out the right side of the blog. If you would still like to donate for Sunday's giveaway, please send an email to lovemyartjewelry@gmail.com with your name, the name of your shop and a picture of the donation. In return, you will receive one month on our blog with a link to your shop that will be included with the group on the right.
There's something unique with our sponsors this time. Just hover over the buttons of individual shops to get an idea about what each artist designs.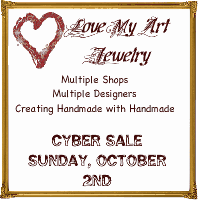 Don't miss out...... Sunday, October 2nd! Yes, that is in just
2
days..... all of the shops that you see below and maybe more will be added by Sunday will be part of our first LMAJ Cyber Sale that will be an all day event!
There are still
2 days
left to link up if you are a shop owner. Please click
HERE
,
HERE
and
HERE
to see all of the past posts in the order that they were published. If you create ALL handmade or are just beginning to create handmade with handmade, please join in. If your shop includes other types of items, I would ask that you either have a section in your shop that is dedicated to handmade with handmade or you renew listings that meet the criteria the day of the sale. If this is you, please mention that in your shop announcements. Thanks!
Also..... if you have a shop such as Etsy who offers coupon codes, please use a code that begins with LMAJ. I will be offering 20% off so my shop coupon code will be LMAJ20. Thanks for helping with consistency.
and.......
~Thank-you for creating handmade with handmade~
MaryAnn Carroll
Special Note: There seems to be a little mix up with today's post. Looks like Kelli and I are both taking this day. A bit ironic considering what a surprise it was for me to read what she wrote about me. It made me tear up....... Thanks so much Kelli.... I LOVE it and will LOVE wearing it.
PS Sorry for stomping on top of your post with mine....